BISP Tracking By CNIC: Check Eligibility And Track BISP Payments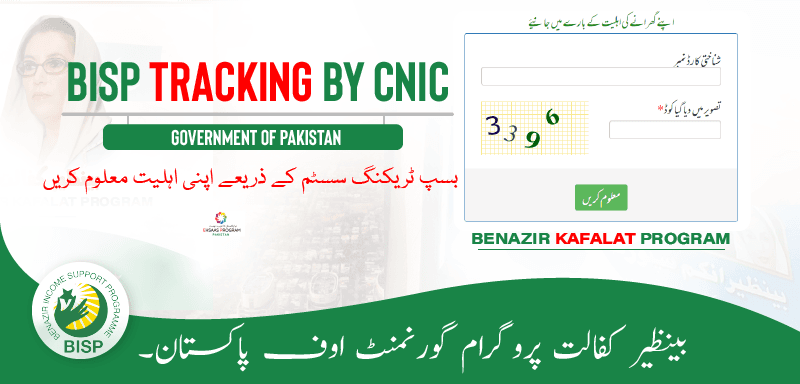 BISP CNIC and Payments Tracking System 2023
BISP tracking by CNIC is introduced to help you check your eligibility and track your payment anytime. Once you are registered in a Bisp program, you can check your eligibility with a tracking ID that can be obtained from any Bisp office. You can also track the status of your payment and payment date anytime with Bisp tracking. You can also verify the overall record of payments you received by Bisp tracking, and if there is some miscalculation, you can complain about that on the Bisp complaint portal.
Bisp Tracking By CNIC Online
If you are registered in a Bisp program, you can visit your nearest Bisp office to obtain your Bisp tracking ID. If you do not have a Bisp tracking ID, you do not need to worry about that. You can get all your information through Bisp tracking online. You can simply send your CNIC number to 8171, and you will be notified about your eligibility and payments through an SMS. You can also check your eligibility and payment updates by visiting your nearest ATM. You need to select the option of Bisp and enter your CNIC number to check your eligibility.
Bisp Tracking Portal
The Government has also introduced a Bisp tracking portal on which you can get all your information, including eligibility, payment details, and real-time updates. You can check your information by following these steps.
Firstly, visit the website www.bisp.gov.pk tracking by CNIC.
Enter your CNIC number without dashes and the captch code given in the picture below.
After entering the information, click "معلوم کریں."
If you are eligible, you will be given information about your Bisp monthly payment update.
If you are not eligible for the Bisp program, you will be notified on your screen.
Those who can not check their information through the Bisp tracking portal can track their information through Bisp tracking by CNIC.
Bisp Nser Tracking ID
This program targets the deserving and collects data from each household to ensure that only the poor people receive the money. You can join the program if you have a low monthly income and do not have too many assets. The second step in the Benazir income support program is to ascertain who the applicant is. If you're the applicant, you'll be asked for all your details, your neighbors will be questioned, and your position will be tested. The third step is to collect all information about the applicant and send it for verification. After applying, you can always check your eligibility through Bisp tracking by CNIC. Once the prescribed information is collected and verified, you will get your money. A card will be issued to you to withdraw the funds from any bank. Cash is also provided; once you are qualified, the money is transferred to your account, and you can withdraw it anytime.

BISP Registration Center
Bisp registration offices have been set up at various places. New registrations are taking place in the offices. You can complete your Bisp survey through the BISP Registration Centre. After completing your survey, you should also check your eligibility through BISP tracking CNIC.
BISP Payment Update 2023
Benazir Income Support Program (BISP) has increased the amount of support to women of deserving families due to inflation. The amount of support is now around 9,000 rupees on a quarterly basis. Eligible pregnant women receive an additional amount under the BISP Nashonuma program, and the children of eligible women get a specific amount quarterly under the BISP Taleemi Wazaif program.
Conclusion
BISP Tracking by CNIC is designed to assist you in verifying your eligibility and monitoring your payment at any time. Once you are registered in one of the Bisp programs, you can verify your eligibility by obtaining a tracking ID from any of the Bisp offices. With Bisp tracking, you can keep track of your payment status and payment date at any time. You can also check the total record of payments you have received by using Bisp tracking. If there is any miscalculation in your payment history, you can file a complaint on the Bisp complaints portal. Bisp tracking ID can assist you in checking your balance, tracking the status of your application, and verifying your eligibility.
Frequently Asked Questions
Q: How can I track my Bisp payment online?
Ans. You can enter your CNIC number on BISP's tracking website to track your BISP payments online.
Q: How does the Bisp tracking by CNIC online system work?
Ans. The system uses the CNIC to display information such as the most recent transactions and upcoming payments.
Q: How is the Bisp online tracking system beneficial for recipients?
Ans. You can access payment information promptly, eliminating the need to visit payment centers, thus reducing the amount of time and effort required.