Ehsaas Program for Disabled Person Registration Online
Ehsaas program for disabled person initiative started by govt of Pakistan to serve the special persons of Pakistan and give them 2000 per month to provide financial help due to their disability. There are plenty of families in different areas of Pakistan having a special child in a house with some kind of disability.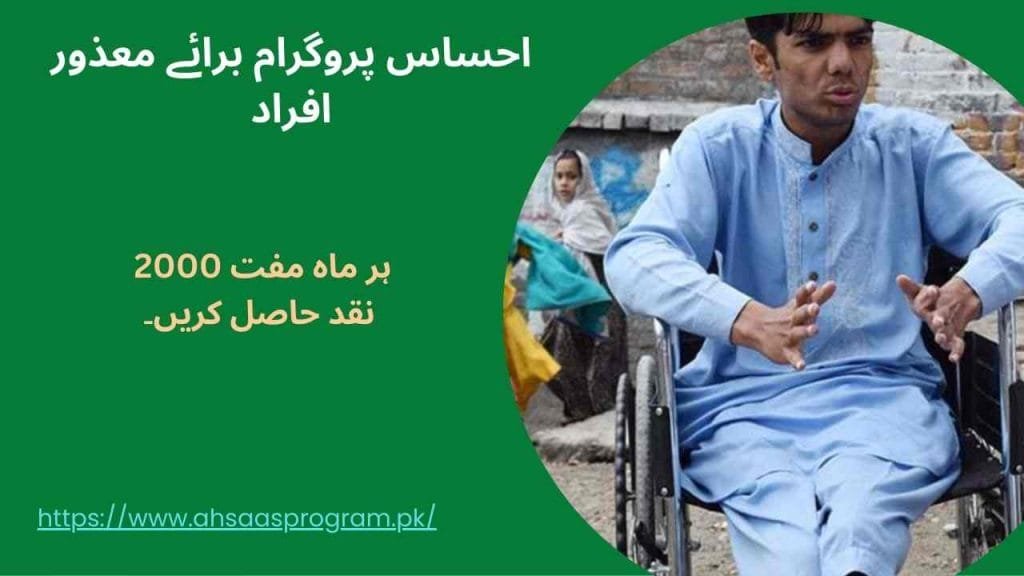 Due to financial constraints, they are unable to raise their children properly, and since these children need special care and protection, this small amount of money each month will provide some of their needs.
The program was launched by Imran Khan in December 2020 to assist the poor and needy people of Pakistan. The initiative was a good way to help the most neglected community, which deserves to be treated well. They may be unable to earn a living or provide for their families because they cannot see, walk, or earn on their own. Therefore with Ehsaas Program helping this kind of disabled persons is a great idea.
There are almost 70 million families in Pakistan with a special person. To help them out, the government of Pakistan decided to give them a monthly cash fund in their savings accounts, so they could use this when they needed it. This program is estimated to cost 14 billion rupees.
How to register for Ehsaas Disable Person Program 2023
To register for this scheme, you will need to get register as a disabled person in Pakistan. First, go to any DHQ (district Headquarter Hospital), and get your self examined for your disability. The panel of doctors will examine you for your disability, and if you are not fit they will issue a disability certificate.
The next step is getting CNIC from Nadra, Govt of Pakistan has started a smart card for Special Persons, where their disability is mentioned on their smart card. The good thing is disabled people can get free CNIC. When you will show the disability certificate to Nadra, they will treat you on priority bases and will make you Nadra smart card for free.
Download Disabled person registration Forms
Steps to Register For Ehsaas Disable Person Program
Go to https://www.pbm.gov.pk/
Download the form Disable Person/Special Friends
Fill the form for financial Assistance
Send the form to Pakistan Bait-ul-Mal، Street No: 7, Sector: H، 8/4, H 8/4 H-8, Islamabad
Things Needed For Registrations
More Program's For Disabled Persons
There are plenty of programs offered by federal and provisional governments. Most of people don't know about these programs, so they can not get any benefit for these offers. The commons peoples having a lot of difficulties could not benefit from these facilities, so after listing about Ehsaas Programs for Disabled Persons, we will inform you of the other benefits you can get from governments. There are some other interest free loan schemes offered by GOP..
Free School & College Education
If you or any of your children are disabled, You can get free school and college education in government school and college. They will not charge a single penny from you throughout your education career and even will pay you for your books and notebooks.

Moreover, if you go to any other city, away from your home, for your college education, the Government of Pakistan is responsible for giving you free hostel facilities. You will not be charged for any transport charges throughout your studies period.
Free Travel in Bus, Train, Airplane
The GOP also offers free railways tickets to disabled persons; even those travelling with a special person can get 50%Off in their fair. Moreover, PIA offers 50% off to Special persons on their ticket, and the caretaker of that person can also get 25% off.
Free Money for Disabled Persons
GOP with bait ul mal offers 30000 each year for one disabled person in the family, and if there is more than one person in any family, the amount increases to 60000 per year. You can go to bit ul mal website and fill out the form with the required information and send it to mentioned authorities to get free money.
Wheelchair For Disabled Persons
You can also get a wheelchair from Bait Ul Mal if you have a permanent disability and cannot walk properly. You will get a standard wheelchair at first, but if you complete your Master's degree you can ask for Electronic Wheelchair, and Govt is responsible for helping out with that.
Laptop For Disabled Persons
Many government universities offer free education to disabled persons also, some private universities, Like UOL, and UMT gives 50% concessions to special persons who enrol on any course in their university. Moreover, GOP gives a free laptop to each Special person who gets admission to any Master's degree program.
Conclusion
Federal and provisional governments offer numerous programs for helping disabled individuals. Also, many organisations help the special person in every way possible. But most individuals or persons need to learn about these facilities and offers so that they can benefit from these resources. I have written this post to help you so that you can benefit from government programs.