PM Laptop Scheme 2023 Online Apply Free | PM's National Laptop Scheme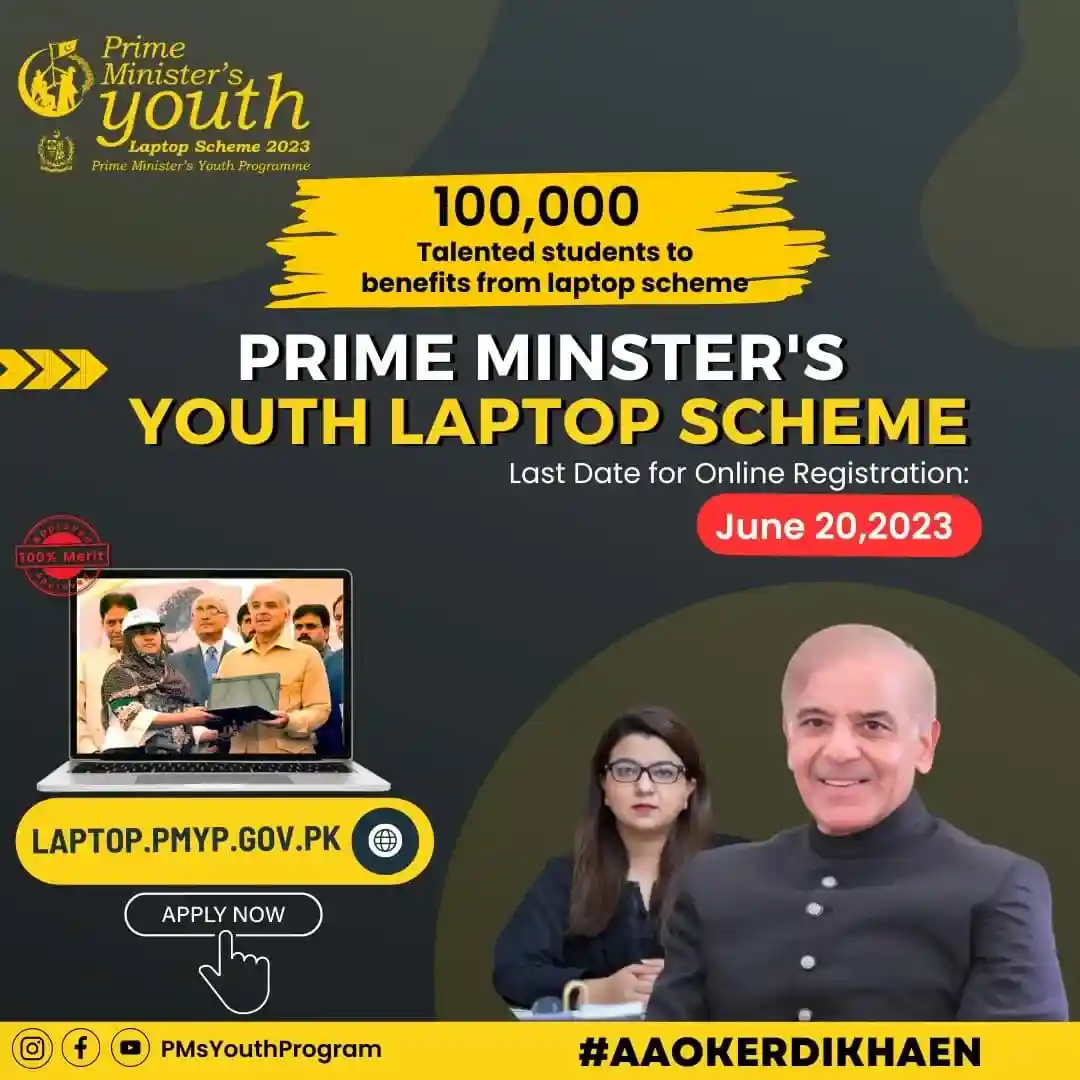 We live in a modern era where everything has shifted towards online work. To improve and enhance IT development, The prime minister of Pakistan has launched phase 3 of the free laptop scheme 2023. The PML N government has already distributed many free laptop for students in pakistan through a laptop scheme for students.
New Update 2023 Registration Is Closed..!!!! APPLICATION STATUS
According to this new Phase of the Hec laptop scheme, the Federal government Will distribute 1,00000 free laptops for students in Pakistan. According to the prime minister youth laptop scheme(pmyls), laptops will be given to talented students purely on merit. click on the given Button for the Shahbaz Sharif laptop scheme 2023 online application.
What is the Prime Minister laptop Scheme in Pakistan?
Prime Minister laptop scheme 2023 is a PM HEC laptop Program in which 1,00000 free laptops will be distributed among students of Higher Education studies. HEC Prime Minister laptop scheme is a government-free laptop Program 2023, of which Phase 3 has been started. Pm laptop scheme registration for Phase 3 has been started. To apply for PM's National laptop scheme Last date is 20th June 2023. You can apply online by Visiting the official website "https://laptop.pmyp.gov.pk/index.php " for the HEC pm laptop scheme.
Also read : Ba Ikhtiyar Naujawan Internship Program
PM laptop scheme 2023 Eligibility Criteria
Students must have valid documents to be eligible for the Shahbaz Sharif student-free laptop scheme. Eligibility criteria are as follows.
| | | | |
| --- | --- | --- | --- |
| Degree Name | Duration | Date of Admission ( Greater then or After ) | End Date |
| PhD | 5 Years | 30-Jun-18 | 30-Jun-23 |
| MS/ MPhil or Equivalent | 2 Years | 30-Jun-21 | 30-Jun-23 |
| MBA | 3.5 Years | 31-Dec-19 | 30-Jun-23 |
| MBA | 2.5 Years | 31-Dec-20 | 30-Jun-23 |
| MBA | 1.5 Years | 31-Dec-21 | 30-Jun-23 |
| Masters (16 years) | 2 Years | 30-Jun-21 | 30-Jun-23 |
| Undergraduate | 5 Years | 30-Jun-18 | 30-Jun-23 |
| Undergraduate | 4 Years | 30-Jun-19 | 30-Jun-23 |
PM's Free Laptop Distribution Strategy/Selection criteria
Once the student completes the application through the HEC online portal before the designated deadline, the system will automatically sort eligible and ineligible students.
The Focal Person bears full responsibility for the validation of this information. Suppose they detect any inconsistencies in the student's data. In that case, these will be rectified by modifying the student's information after acquiring their records from the institute or by consulting the student directly.
Depending on the nature of the application, the Focal Person has the authority to approve, reject, or make necessary adjustments within a stipulated time frame.
After the deadline for HEC verification expires, an automated system will generate the merit lists for each university. The HEC will then distribute the preliminary merit lists among the institutes for their verification, which they should complete within 15 days.
After all inconsistencies in the preliminary merit rankings have been addressed, the HEC will distribute the definitive rankings to the corresponding educational bodies.
Every institution must publicize these final rankings on their bulletin boards, online platforms, or social networking sites, as well as the distribution schedule for laptops.
Moreover, these definitive rankings will be uploaded to the online platform for public viewing, allowing students and the wider community to see each individual's merit standing.
Prime Minister laptop scheme 2023 Registration date
The last date for www.pmnls.hec.gov.pk Online registration was extended to 20 June 2023. Hurry up and register yourself for a laptop.
PM laptop scheme 2023 Application Status
I will guide you through the complete procedure to apply online for the laptop Program. Click on the link ( www laptop.pmyp.gov.pk / verify registration), enter your ID card number, and click on the I am not a robot option. After confirming your eligibility, register Yourself by providing the required information. Visit the official website and click on application status.
Enter your phase 2022-2023, and choose the city name, university name, campus name, department, degree and year of study. Click on the filter result, and your status could be one of the following.
Shahbaz Sharif laptop scheme 2023 online apply last date
The last date to apply online for a free laptop is 20 June 2023. Save your time and get yourself registered for this program.
Government Free laptop scheme Application form
Visit www.pmyp.gov.pk and click on Apply Now. Enter your valid ID card and press submit. Read the instructions carefully and accept the terms and continue. The application form will be on your screen. In the first step, your personal information, Name, Father's name, date of birth, and email. Continue to the second step, provide Academic information and then complete the third step of contact verification. After completing the registration form, submit it. Your application for the free laptop Phase Three 2023 has Been submitted.
What is the deadline to apply for PM Shahbaz Sharif laptop Scheme?
20 June 2023 is the last day to apply for the laptop scheme. Remember that you should have a valid document visit Nadra if your ID card is expired.
Prime Minister's Youth Laptop Scheme Phase-III
If you are a student eligible for the current laptop scheme but have mistakenly entered incorrect data on your application form, don't worry! You can correct your information:
Go to the 'Search Focal Person' page and find the Focal person assigned to your university. Contact them and provide the accurate information that needs to be updated.
The Focal person will verify your details and make the necessary corrections or updates on your behalf.
Suppose the Departmental Focal Person and the Super Focal Person have already reviewed and approved or disapproved your information, but you still believe there is an error. In that case, you can reach out to the Higher Education Commission (HEC) via email. Make sure to include proper evidence, such as a valid copy of your CNIC (Front & Back) if you need a correction in your CNIC.
If you have any questions or concerns, contacting your Departmental Focal Person is recommended. If they are unresponsive, you can contact your University Super Focal Person for assistance.
PM laptop scheme 2023 Merit list
Keep Visiting to know about the final merit list. A provisional merit list will be displayed on the notice board of your concerned college or university. After confirmation by the focal person and removing an error, the final merit list Will be displayed on
PM laptop scheme 2023 for University students
Students of public sector higher education institutes are preferred for selection of merit. Universities recognized by HEC are eligible to receive laptops. Visit the official website of pmyp.gov.pk and click on the list of eligible universities. You can also check your focal person and his contact number from the official website.
PM laptop scheme 2023 for Matric students
100000 Laptops will be distributed in the Whole country. Fourteen thousand laptops will be distributed in Balochistan and 86000 in the remaining province. Registration has been started for Matric students. Students with a good mark above 80% in matric can be eligible for laptops.
PM laptop scheme 2023 for FSC Students
A student with good intermediate marks can apply through an online portal for the free laptop distribution 2023.
PM Laptop Helpline / COMPLAINTS
Higher Education Commission (HEC) Prime Minister's Laptop Scheme Phase-III
| | | |
| --- | --- | --- |
| Sr.No | Region | Name of University |
| 1 | AJ&K | The University of Azad Jammu & Kashmir, Muzaffarabad |
| 2 | AJ&K | Mirpur University of Science and Technology (MUST), Mirpur |
| 3 | AJ&K | The University of Poonch, Rawalakot, AJK |
| 4 | AJ&K | The Women University of Azad Jammu & Kashmir, Bagh |
| 5 | AJ&K | University of Kotli, AJK |
| 6 | Balochistan | Balochistan University of Engg & Technology, Khuzdar |
| 7 | Balochistan | Balochistan University of Information Technology, Engineering & Management Sciences,Quetta |
| 8 | Balochistan | University of Balochistan, Quetta |
| 9 | Balochistan | Sardar Bahadur Khan Women's University, Quetta |
| 10 | Balochistan | Lasbela University of Agriculture, Water and Marine Sciences, Uthal, District Lasbela |
| 11 | Balochistan | University of Turbat, Turbat |
| 12 | Balochistan | University of Loralai, Loralai |
| | | |
| --- | --- | --- |
| 13 | Balochistan | Bolan University of Medical and Health Sciences, Quetta |
| 14 | Balochistan | Mir Chakar Khan Rind University, Sibi |
| 15 | Balochistan | University of Gwadar |
| 16 | Federal | Bahria University, Islamabad |
| 17 | Federal | International Islamic University, Islamabad |
| 18 | Federal | National University of Modern Languages, (NUML) Islamabad |
| 19 | Federal | Quaid-i-Azam University, Islamabad |
| 20 | Federal | COMSATS University, Islamabad |
| 21 | Federal | National University of Sciences and Technology (NUST), Islamabad |
| 22 | Federal | Pakistan Institute of Engineering and Applied Sciences (PIEAS), Islamabad |
| 23 | Federal | Air University, Islamabad |
| 24 | Federal | Institute of Space Technology, Islamabad |
| 25 | Federal | National Defence University, Islamabad |
| 26 | Federal | Pakistan Institute of Development of Economics (PIDE), Islamabad |
| 27 | Federal | Shaheed Zulfiqar Ali Bhutto Medical University, (SZABMU), Islamabad |
| | | |
| --- | --- | --- |
| 28 | Federal | National University of Medical Sciences, Islamabad |
| 29 | Federal | National University of Technology (NUTECH), Islamabad |
| 30 | Federal | National Skills University, Islamabad |
| 31 | Federal | Federal Urdu University of Arts, Science & Technology, Karachi |
| 32 | Federal | Pakistan Institute of Fashion and Design, Lahore |
| 33 | Federal | Health Services Academy (HSA) Islamabad |
| 34 | GB | Karakurum International University, Gilgit-Baltistan |
| 35 | GB | University of Baltistan, Skardu |
| 36 | KhyberPakhtunkhwa | Abdul Wali Khan University, Mardan |
| 37 | KhyberPakhtunkhwa | Shaheed Benazir Bhutto Women University, Peshawar |
| 38 | KhyberPakhtunkhwa | Gomal University, D.I. Khan |
| 39 | KhyberPakhtunkhwa | Hazara University, Mansehra |
| 40 | KhyberPakhtunkhwa | Institute of Management Sciences, (IM Sciences), Peshawar |
| 41 | KhyberPakhtunkhwa | The Islamia College, Peshawar |
| | | |
| --- | --- | --- |
| 42 | KhyberPakhtunkhwa | Khyber Medical University, Peshawar |
| 43 | KhyberPakhtunkhwa | Kohat University of Science and Technology, Kohat |
| 44 | KhyberPakhtunkhwa | The University of Agriculture, Peshawar |
| 45 | KhyberPakhtunkhwa | University of Engineering. & Technology, Peshawar |
| 46 | KhyberPakhtunkhwa | Shaheed Benazir Bhutto University, Sheringal, Dir Upper |
| 47 | KhyberPakhtunkhwa | University of Malakand, Malakand |
| 48 | KhyberPakhtunkhwa | University of Peshawar, Peshawar |
| 49 | KhyberPakhtunkhwa | University of Science & Technology, Bannu |
| 50 | KhyberPakhtunkhwa | University of Swat, Swat |
| 51 | KhyberPakhtunkhwa | University of Haripur, Haripur |
| 52 | KhyberPakhtunkhwa | Bacha Khan University, Charsadda |
| 53 | KhyberPakhtunkhwa | University of Swabi, Swabi |
| 54 | KhyberPakhtunkhwa | Khushal Khan Khattak University Karak |
| | | |
| --- | --- | --- |
| 55 | KhyberPakhtunkhwa | Women University, Swabi |
| 56 | KhyberPakhtunkhwa | Abbottabad University of Science and Technology (AUST), Abbottabad |
| 57 | KhyberPakhtunkhwa | Shuhada-e-Army Public School, University of Technology, Nowshera |
| 58 | KhyberPakhtunkhwa | Women University Mardan, Mardan |
| 59 | KhyberPakhtunkhwa | University of Engineering. & Technology, Mardan |
| 60 | KhyberPakhtunkhwa | The University of Lakki Marwat |
| 61 | KhyberPakhtunkhwa | University of Buner |
| 62 | KhyberPakhtunkhwa | University of Chitral, Chitral |
| 63 | KhyberPakhtunkhwa | Pak-Austria Fachhochschule Institute of Applied Sciences and Technology, Haripur |
| 64 | KhyberPakhtunkhwa | The University of Agriculture, D. I. Khan |
| 65 | KhyberPakhtunkhwa | University of FATA |
| 66 | Punjab | NFC Institute of Engineering and Technology, Multan |
| 67 | Punjab | National College of Arts (NCA), Lahore |
| | | |
| --- | --- | --- |
| 68 | Punjab | National Textile University, Faisalabad |
| 69 | Punjab | Fatima Jinnah Women University, Rawalpindi |
| 70 | Punjab | Pir Mehr Ali Shah Arid Agriculture University, Rawalpindi |
| 71 | Punjab | University of Engg. & Technology (UET) Taxila |
| 72 | Punjab | Rawalpindi Medical University, Rawalpindi |
| 73 | Punjab | Rawalpindi Women University, Rawalpindi |
| 74 | Punjab | Kohsar University, Murree |
| 75 | Punjab | Bahauddin Zakariya University, Multan |
| 76 | Punjab | The Islamia University of Bahawalpur |
| 77 | Punjab | University of Agriculture (UAF), Faisalabad |
| 78 | Punjab | University of Engineering and Technology Lahore |
| 79 | Punjab | University of Education, Lahore |
| 80 | Punjab | University of the Punjab, Lahore |
| 81 | Punjab | University of Veterinary and Animal Sciences, Lahore |
| 82 | Punjab | Government College University (GCU), Lahore |
| | | |
| --- | --- | --- |
| 83 | Punjab | Lahore College for Women University, Lahore |
| 84 | Punjab | University of Health Sciences, Lahore |
| 85 | Punjab | University of Sargodha, Sargodha |
| 86 | Punjab | Government College Women University, Faisalabad |
| 87 | Punjab | Kinnaird College for Women, Lahore |
| 88 | Punjab | University of Gujrat, Gujrat |
| 89 | Punjab | King Edward Medical University, Lahore |
| 90 | Punjab | Government College University, Faisalabad |
| 91 | Punjab | The Women University, Multan |
| 92 | Punjab | Muhammad Nawaz Shareef University of Agriculture, Multan |
| 93 | Punjab | Ghazi University, Dera Ghazi Khan |
| 94 | Punjab | Government College Women University, Sialkot |
| 95 | Punjab | Information Technology University of the Punjab, Lahore |
| 96 | Punjab | Khwaja Fareed University of Engineering and Information Technology, Rahim Yar Khan |
| 97 | Punjab | Government Sadiq College Women University, Bahawalpur |
| | | |
| --- | --- | --- |
| 98 | Punjab | Muhammad Nawaz Sharif University of Engineering & Technology, Multan |
| 99 | Punjab | Fatima Jinnah Medical University, Lahore |
| 100 | Punjab | Nishtar Medical University, Multan |
| 101 | Punjab | Punjab Tianjin University of Technology , Lahore |
| 102 | Punjab | University of Okara |
| 103 | Punjab | University of Sahiwal, Sahiwal |
| 104 | Punjab | Cholistan University of Veterinary and Animal Sciences, Bahawalpur |
| 105 | Punjab | University of Narowal, Narowal |
| 106 | Punjab | Faisalabad Medical University, Faisalabad |
| 107 | Punjab | University of Home Economics, Lahore |
| 108 | Punjab | University of Mianwali, Mianwali |
| 109 | Punjab | University of Chakwal, Chakwal |
| 110 | Punjab | University of Jhang, Jhang |
| 111 | Punjab | Mir Chakar Khan Rind University of Technology, Dera Ghazi Khan |
| 112 | Punjab | Punjab University of Technology, Rasul-Mandi Bahauddin |
| | | |
| --- | --- | --- |
| 113 | Punjab | Emerson University, Multan |
| 114 | Sindh | Liaquat University of Medical and Health Sciences (LUMHS), Jamshoro |
| 115 | Sindh | Mehran University of Engg. & Technology, Jamshoro |
| 116 | Sindh | NED University of Engineering & Technology, Karachi |
| 117 | Sindh | Quaid-e-Awam University of Engineering, Science & Technology, Nawabshah |
| 118 | Sindh | Shah Abdul Latif University, Khairpur |
| 119 | Sindh | Sindh Agriculture University, Tandojam |
| 120 | Sindh | University of Karachi, Karachi |
| 121 | Sindh | University of Sindh, Jamshoro |
| 122 | Sindh | Dow University of Health Sciences, Karachi |
| 123 | Sindh | Institute of Business Administration, Karachi |
| 124 | Sindh | Sukkur, IBA |
| 125 | Sindh | Shaheed Mohtarma Benazir Bhutto Medical University (SMBBMU), Larkana |
| 126 | Sindh | Benazir Bhutto Shaheed University, Lyari, Karachi |
| 127 | Sindh | Peoples University of Medical & Health Sciences for Women, Shaheed Benazir Abad |
| | | |
| --- | --- | --- |
| 128 | Sindh | Shaheed Benazir Bhutto University, Shaheed Benazirabad (Nawabshah) |
| 129 | Sindh | Sindh Madressatul Islam University, Karachi |
| 130 | Sindh | Jinnah Sindh Medical University, Karachi |
| 131 | Sindh | Gambat Institute of Medical Sciences, Khairpur |
| 132 | Sindh | Shaheed Zulfiqar Ali Bhutto University of Law, Karachi |
| 133 | Sindh | Shaheed Benazir Bhutto University of Veterinary And Animal Sciences, Sakrand |
| 134 | Sindh | Benazir Bhutto Shaheed University of Technology & Skill Development, Khairpur Mirs |
| 135 | Sindh | University of Sufism and Modern Sciences, Bhitshah |
| 136 | Sindh | Shaikh Ayaz University, Shikarpur |
| 137 | Sindh | Government College University, Hyderabad |
| 138 | Sindh | Dawood University of Engineering and Technology, Karachi |
| 139 | Sindh | Begum Nusrat Bhutto Women University, Sukkur |
| 140 | Sindh | The Sindh Institute of Physical Medicine and Rehabilitation, Karachi |
| 141 | Sindh | Aror University of Art, Architecture, Design and Heritage, Sukkur |
Public Sector eligible HEI's,
FAQ (Frequently Asked Questions)