Nai Zindagi Naya Jeevan / Nayee Zindagi Program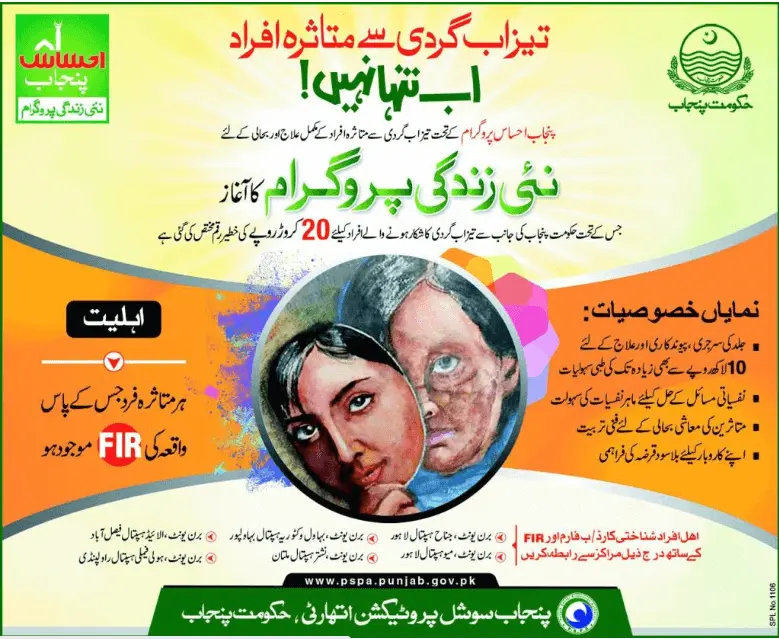 Social protection policies and programs are necessary to enhance the capacity of a Vulnerable portion of society to manage various social and economic risks. Acid attacks have been a major problem for many years, especially in the uneducated population. Many girls have been affected by Acid attacks. Many social policies have been made to reduce and eliminate the chance of Acid attacks. All culprits of this unethical and horrible act must be punished so that no one can even think about acid throwing on someone.
Punjab Nai/Nayee Zindagi Program Registration
Punjab social protection authority (PSPA) has launched the Nayee Zindagi program under the Punjab Ehsass program for Acid victims. There are multiple types of problems that a Acid victim faces. Psychological issues like post-traumatic stress disorder (PTSD), depression, physical issues like skin changes, and facial features.
The government of Punjab has launched this rehabilitation scheme to assist the victim financially, psychologically, and socially. Empowering Acid attack victims through institutional Arrangements in different fields can improve their socio-economic Condition. Effective victims are offered various training sessions to cope with the financial situation through skillful Youth Development plan. Loans are being affected through ehsaas interest-free loan schemes.
Ehsaas nayee zindagi program online check
Acid-throwing is a heinous crime. For simplicity of procedure, there is no need to fill out any online form. The Acid victim should visit their nearest police station to tell the incident details so that an FIR can be entered. After FIR, he can visit the nearest treatment burn center ( included in the scheme) for Plastic surgery, skin grafting, and medical-psychological rehabilitation.
Nayi zindagi program eligibility
All the Acid victims, carrying FIR of the incident and CNIC, all eligible to receive treatment of Rs 1000000 On offical website.
Punjab Ehsaas nai Zindagi program eligibility and Treatment Centre
Two hundred million rupees have been allocated for this initiative so that acid victims can get their medical treatment.
Eligibility criteria are as follows:
Naya Zindagi program Hospital list Treatment Centre
Acid attack victims can visit the following hospital for their treatment.
Skin grafting and plastic surgery are costly procedures, but the government is offering treatment free of cost so that chance of contracture formation and skin changes can be decreased.
Why was this program necessary, and what is the aim of this initiative?