Ehsaas NSER Survey Program Online Registration Check CNIC 2023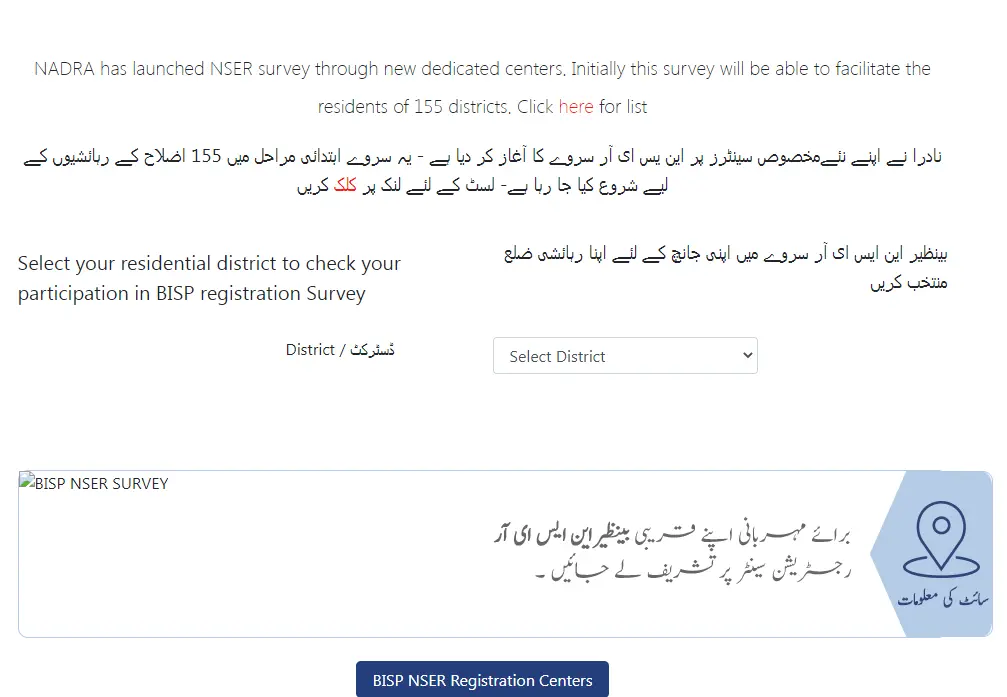 Ehsaas Survey program registration has been started to identify the poor and deserving families. Anyone who has not completed its online survey of Ehsaas program is unable to apply for Ehsaas Kafalat program. When the PTI government launched this initiative, then a door-to-door campaign was done to identify the poorest part of society. This survey is called the NSER survey analysis.
Check Here : Check nser survey center
If any deserving individual has not completed their Ehsaas survey, you can complete it in February 2023. The government has again started a campaign where you can complete your survey if it was not completed before. This new survey phase comes under the umbrella of BISP Dynamic Survey results 2023.
NSER Survey online Registration Check
NSER registration is a data repository containing information on the Socioeconomic status of all the households participating in the data collection exercise.
Data from 27 million household survey were collected in 2010 for the first time by visiting the doorstep of every single family. In 2016, it was decided to update the registry database to improve the targeting efficiency of BISP and other government schemes. The government agent visits every doorstep to complete Ehsaas survey registration.
Ehsaas Nser Survey online Registration Check
If you are searching for your Ehsaas Survey status, I will guide you. There are two ways to check your NSER registration.
You need to send your valid CNIC number to 8171. They will reply about your service status, either eligible or not ineligible.
You can also check online if an internet facility is available. Open 8171 web portal and enter your CNIC and mobile SIM number. Inter the given code, and press the submit button. You will be eligible if your NSER view is complete and your poverty line score is according to the requirement. If your survey is incomplete, it will be written on the portal as follows: (aap ka survey Mukammal nahi) Aapka data NADRA ki database Mein maujood Nahin.
Read More : 8171 CNIC web Portal
Ehsaas Program Survey online Apply
If your biodata is unavailable in the Nadra database, you can't apply for the ahsaas program. To complete your survey, you must visit the nearest EHSAAS registration Centre/desk. Tell the agent about your income and family members and complete the questionnaire. You can get any information regarding the Ehsaas Scheme through the Ehsaas survey program website "www.nser.gov.pk".
Ehsaas Survey App
You can check your Survey status by using the 8171 web portal. The government has launched the NSER house to house apk for Android. Click on the given link to download the app.
Ehsaas Survey 2023-24 Eligibility Criteria
In 2016 there was a change in collecting data on households through NSER Program. In 2019-20 NSER perspective data was computerised. The government Trained The data collection teams in a very organised way. Data is collected door-to-door by the Collection team on an Android tablet instead of paperwork.
An awareness campaign was launched before the visit of the Data Collection team. People were told to register themselves, and there was no fee for registration. Registration for a whole family is not necessary if only one individual of that family is registered. For the NSER Assessment, you should have a valid CNIC, mobile SIM number registered to your ID card No, of family members and income per month/annual.
Ehsas survey Form
The NSER program form is available on all the Ehsaas program registration desks. Monthly income status and family member valid CNIC are required to complete the form.