Everyone can't have enough equal opportunity for his own business. In developing countries like Pakistan, every basic need is difficult to fulfill. The Government of Pakistan has started an initiative, "ehsaas program amdan ." The prime purpose of the scheme is women's empowerment, especially women of low-income families. This plan involves cash transfers, income support, and small loans to achieve sustainable development goals.
Ehsaas Amdan program online registration 2023/ apply online
The ex-Prime Minister of Pakistan, Mr. Imran Khan, launched an initiative to provide financial resources to poor people. Special teams were trained to uplift the skill of lower-income families to provide them with better livelihoods, Under the umbrella of the ehsaas Aamdani registration program. Ehsaas amdan program registration online 2022-2023 has been started to provide assets like goats, buffalo, and Auto rickshaws. If you want to ehsaas amdan program online apply/ Ehsaas amdan registration online, your survey must be completed. You need to visit the 8171 web portal to check your eligibility first.
You can send your CNIC number to 8171 to book your appointment. You can read further details from the official website "ehsaastracking.gov.pk." The Pakistan poverty alleviation Fund (PPAF) is an organization that works in collaboration With partner organizations. First, deserving people are selected, and their asset type is identified. These organizations purchase the Asset asked by the beneficiary.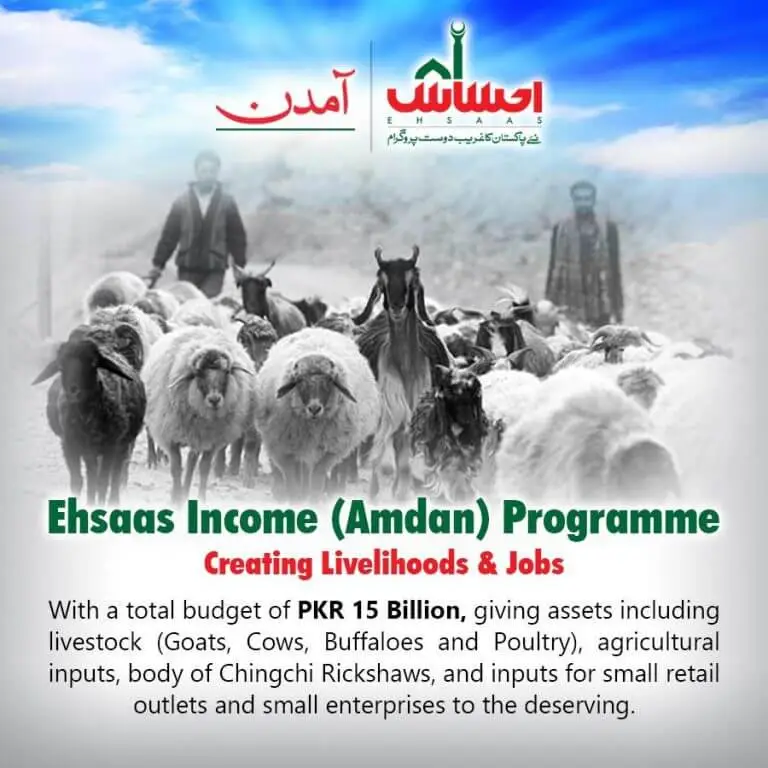 Assets are handed over to the beneficiary to start their own small business. For example, if you have a buffalo, you can sell buffalo milk to others to earn money. Various community institutions are already working at the village level. to minimize the chance of corruption in the Whole procedure. PPAF will ensure ( transparency and accountability). Those selected households who want vocational training or assistance participate in special skill development courses by reputable institutes.
Ehsaas Amdan Program Apply online
Recent circumstances of our country are not suitable for the poor segment of the country. You can avail of financial resources through Ehsaas amdan by applying online. Send your identity card number to 8171 or visit the 8171 portal to apply for the ehsaas income program scheme.
Ehsaas Amdan program application form
Visit your nearest Ehsas registration desk and fill out the necessary information in the ehsaas amdan registration form. You can take assets of up to 200000 price Under the Mera Karobar/ Mera Aamdani scheme.
Ehsas Amdan program CNIC check online.
Ehsaas amdan online registration you can send your NADRA card number 8171 to know your eligibility. The budget of this initiative is ISB.
Visit the Ehsaas program website at https://ehsaas.nadra.gov.pk/ehsaasTracking/
Enter your CNIC (Computerized National Identity Card) number in the "Enter CNIC Number" field.
Click on the "Submit" button.
The system will then check if you are eligible for the Ehsaas Amdan program and display a message on the screen indicating your eligibility status.
If you are eligible, the message will also show the cash assistance you are entitled to receive under the program.
Ehsaas Amdan program App
There is no app for this scheme. You need to visit your nearest registration Center to apply for this scheme.
Ehsaas Amdan Program website
Click on the link to visit the official website." pass.gov.pk." you can read only information regarding the Ahsaas Amdan scheme.
Visit the official website of the Ehsaas program: https://ehsaas.nadra.gov.pk/ehsaasTracking/
Enter your CNIC number in the "Enter CNIC Number" field on the website.
Click on the "Submit" button.
If you are eligible for the Ehsaas Amdan program, a message will appear on the screen confirming your eligibility and the amount of cash assistance you will receive.
If you are not eligible, a message will appear on the screen informing you that you are not eligible for the program.
Ehsaas Amdan Program Eligibility
Those poor people whose dynamic survey/ NSER survey is complete and whose poverty score is according to PPAF criteria or eligible. Ehsaas income program is a great initiative that is creating livelihoods and jobs. The government is giving assets, including livestock ( poultry, goats, cows, buffaloes), Agriculture inputs, the body of ching chi rickshaws, and input for small details outlets and small Enterprises to deserving ones.
Ehsas Amdan program loan
This initiative offers small loans, "Ehsaas Amdan loan," by which you can start your own business. Everyone has not equal financial resources for his own business. You can take a loan of 75000 under Ehsaas interest-free loan program.
Ehsaas Amdan Targets
The main target of this plan is to create opportunities for livelihoods and reduce poverty.
Targeted Beneficiaries: The program targets poor households, especially women, focusing on society's most vulnerable and marginalized segments.
Geographic Coverage: The program is being implemented in all 154 districts of Pakistan, including the merged districts of Khyber Pakhtunkhwa.
Household Income Threshold: The program sets an income threshold of PKR 2,000 per person per month (PKR 24,000 per annum) as the eligibility criteria for cash assistance.
Enrollment of Eligible Households: The program aims to enrol at least one eligible member from each identified household to receive financial assistance.
Digital Payment Mechanism: The program uses a digital payment mechanism to disburse cash assistance to beneficiaries. Each eligible household member receives PKR 2,000 per month through an Ehsaas Digital Wallet, accessed through a mobile phone or at designated payment centres.
Capacity Building: The program also includes capacity-building initiatives to support the economic empowerment of beneficiaries, such as vocational training, entrepreneurship, and financial literacy programs.
Ehsaas Amdan Program Timelines
Imran Khan inaugurated this program on 21st February 2020. it will complete its target in 4 years by the end of 2023.
Note Also check :
Ehsaas Amdan focal person offices and contact number
Ehsaas Amdan is a program launched by the Government of Pakistan to provide financial assistance to the unemployed and underemployed segments of society. The program has focal persons at the district level who are responsible for the implementation of the program.
To find the contact information for the Ehsaas Amdan focal person in your district, you can visit the Ehsaas Amdan website at www.pass.gov.pk/ehsaas. On the website, you can click on the "District Implementation Plan" tab and select your district to see the focal person's contact information.
Ehsaas Amdan helpline at 0800-26477
list of districts included in Ehsaas Amdan program
The program is being implemented in all 154 districts of Pakistan. The following is the list of provinces and districts where the Ehsaas Amdan program is being implemented. The Ehsaas Amdan programme is commencing in 375 rural Union Councils in 23 of the poorest districts across the 4 provinces of Pakistan .
Punjab:
Attock
Bahawalnagar
Bahawalpur
Bhakkar
Chakwal
Dera Ghazi Khan
Faisalabad
Gujranwala
Gujrat
Hafizabad
Jhang
Jhelum
Kasur
Khanewal
Khushab
Lahore